ScheduleInterpreter® and QuickBooks Online offer secure, real-time data synchronization
July 12, 2021 - Reading time: 4 minutes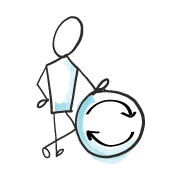 ScheduleInterpreter® full integration with Intuit QuickBooks Online, delivers previously impossible workflow improvements and helps Language Service Providers (LSP) achieve new level of efficiency.
Automation
The entire integration process has been fully redesigned from ground up in 2021. This allowed ScheduleInterpreter® to deliver synchronization of accounting data previously unavailable in the desktop and online edition of QuickBooks. Subscribers can select from manual and automated modes. The entire process of synchronization has been moved into the background, enabling uninterrupted use of ScheduleInterpreter® platform. New notifications with easy to understand reporting are now part of the synchronization and are user aware, meaning the person who requested or completed the synchronization will receive an automated e-mail, when the task is completed.
New level of integration
ScheduleInterpreter® integration process goes beyond basic data exchange. Operating modern LSP requires maintenance of multi-tier account structure, role-based user profiles, ability to address complex billing with large number of invoice templates, meeting demands of all customers, including data obfuscation for healthcare providers, and many other requirements. ScheduleInterpreter®, as a platform, offered all these functionalities and more to all of its subscribers.
Intuit QuickBooks can now be powered by the operational data collected in ScheduleInterpreter®, including transfer of the entire accounts' structure, international and US-based vendors, customer invoices content designed and maintained using template library in ScheduleInterpreter®. First time in the language industry, advanced reporting in Intuit QuickBooks Online can display financial reports using slices of data across markets, industries, languages, services and expenses associated with delivering these services, all powered by ScheduleInterpreter® operational data in real time. For organizations utilizing independent contractors, process of vendor payment is reduced to several clicks, regardless what form of payment is chosen or the amount of payment.
All accounting data transferred from ScheduleInterpreter® is automatically filed under corresponding revenue and expense accounts. In addition, all billable and expense items are now classified and categorized, using Intuit QuickBooks Online options. One of the biggest advantage of deep integration is the ability to create and review profit and loss (P/L) reports without any data adjustments.
As Intuit QuickBooks Online continues to improve, specific features are currently not implemented and may not ever be introduced. For example, purchase orders and budgets, work time allocation and distribution, and many other operational aspects are still going to remain exclusive to ScheduleInterpreter®.
Security, HIPAA and PHI
For LSPs providing services in the healthcare markets, utilizing Intuit QuickBooks Online for billing is complicated, as invoices are released to the customers in the form of a link, using only complex URI as protection. Content of the invoice, as required by healthcare providers, may include the date of service, language, name of the consumer, date of birth, MRN and many other components required for accurate filing of the invoice. These form of sharing may not meet required standards for HIPAA-sensitive and PHI data processing.
Unlike Intuit QuickBooks Online, ScheduleInterpreter® delivers invoices via secure e-mail as an attachment. In addition, invoices can be encrypted and password protected, providing an extra layer of security and data privacy. Data obfuscation, as part of ScheduleInterpreter® platform, offers to further improve compliance, by replacing specific details with blank characters. For example, the name of the consumer can only include 3 characters in the front or 5 characters at the end. Similarly, MRN or insurance member ID can be obfuscated as well.
When invoices are delivered by ScheduleInterpreter®, using Intuit QuickBooks Online for billing no longer associated with delivering HIPAA and PHI sensitive content, and can help to improve overall compliance.
Reducing the workload, improving reporting
With new integration accounting team does not need to spend time between two platforms or make double entries. For example, customer payments posted in Intuit QuickBooks Online, using any type of transaction, is automatically posted in ScheduleInterpreter®. Combining real-time data exchange with real-time reporting by Flawless Analytics, improves operational efficiencies and enables access of the management and executive teams to corporate BI and analytics.
With more questions visit our website at www.scheduleinterpreter.com, call us at 707.400.0503 or e-mail at products@scheduleinterpreter.com