ScheduleInterpreter® Calendar Flow is coming soon as early access option
April 25, 2022 - Reading time: 2 minutes
After nearly two years of hard work we are ready to release the Flow, next generation of the management tools built on top of ScheduleInterpreter® platform.  The first member of the Flow family is the calendar.
Flow Calendar is incorporating inputs from thousands of people who use ScheduleInterpreter® platform on a daily basis.  With volume of interpreting assignments rising, we focused on performance and scalability. We also included privacy tools to address screen sharing during conference calls.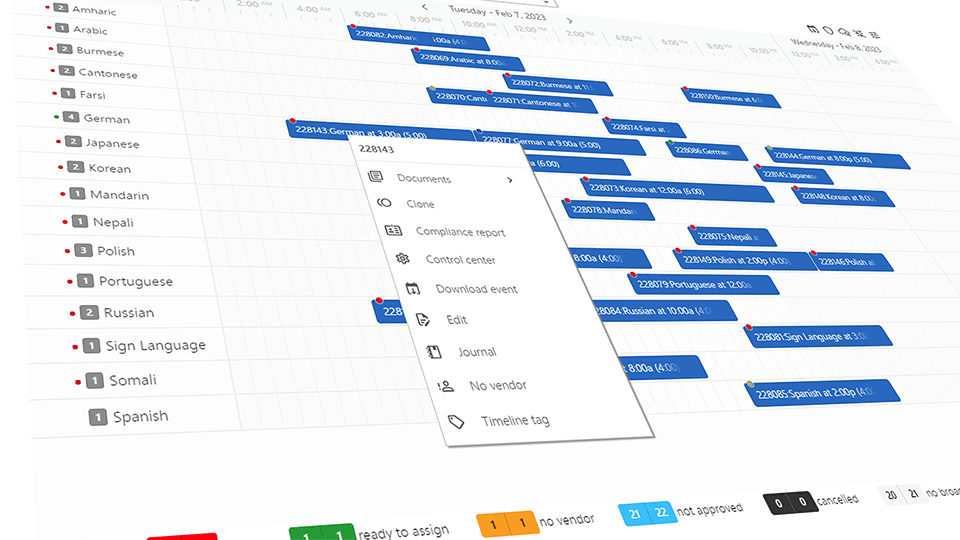 Personalization was another aspect we dedicated extra attention to make sure each organization can build it's brand including layouts and colors. We concentrated on making sure our users can select their personal visual format, timeline, agenda, daily, weekly or monthly views. We used in-house technology to improve efficiency of each user through platform responsiveness. Focusing on different schedule layouts makes it easier the use ScheduleInterpreter® on various devices and screen sizes. With instant changes of the schedule settings, project managers can review assignments in specific modalities, rearrange and group events based on their personal preferences. Team work is now simpler and a lot easier with timeline tags.  Instant search helps to laser focus on a specific event, especially when hundreds of interpreting assignments take place within a single day.  This is also powered by the cloud search, the most powerful search tool that helps to locate any assignment ever scheduled.
Most importantly, we create cloud profiles for each user of the platform, this cloud profiles enable personal settings to be used on any device. Project managers can pick up exactly where they left when moving from one location or device to another.
Stay tuned as we are ready to officially release this much anticipated update.